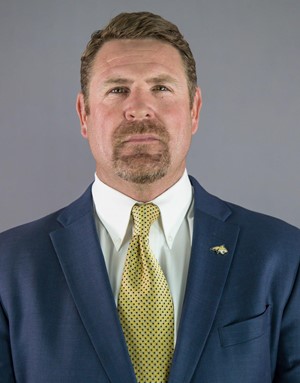 From small agriculture and logging communities in the mountains of Idaho to the bright lights of the SEC and Pac 12, Jeff Choate's coaching career has led him from one corner of the nation to the another. But some constants remain.
The energy is unmistakable. The passion is ever-present. But what sets Choate apart is a commitment to teaching. "I think I've always considered myself a teacher first," MSU's second-year coach says. "It's the cornerstone of what we do as coaches."

His passion for and skill in teaching shine through in his Bobcat teams. MSU showed steady improvement each season, particularly 2017, when the Cats faced seven nationally-ranked teams. Montana State's record improved in each of Choate's seasons, with the 2018 Bobcats posting an 8-5 mark, the program's first FCS Playoff berth since 2014, and the first post-season win since 2011. Significantly, the Cats have beaten the Grizzlies in each of Choate's three seasons at the helm.

Choate became Montana State's 32nd head football coach on December 4, 2015. An Idaho native who graduated from UM Western in 1994, his career is rooted in the Northwest but has spanned the continent. His professional life began as a coach and teacher in rural Idaho and has led him to the Mountain West, Pac 12 and SEC. All the while, the Big Sky Conference and his home region tugged.   

Choate played football at Montana Western in Dillon, earning his a BS in Secondary Education (1994). He joined the Bulldogs coaching staff for the 1992-93 season after an injury ended his playing career, and after graduating he became head football and track coach at Challis (Idaho) High School (1994-96). He became an assistant football, wrestling and baseball coach at Twin Falls High School (1996-97) before becoming Head Football Coach (and eventually AD) at Post Falls High School (1997-2002).

 Choate joined his former UMW head coach Mick Dennehy at Utah State in 2002 as defensive line coach, and became safeties and special teams coach the next season. He held the same position at Eastern Illinois in 2005 before becoming Boise State's special teams coordinator (2006-11). He coached running backs (2006-08) and linebackers (2009-11) while with BSU. 

Choate coached linebackers while coordinating the defensive run game at Washington State in 2012, coached special teams and outside linebackers at Florida in 2013, then rejoined Chris Peterson at Washington in 2014-15.

Learning from head coaches such as Chris Peterson, Mike Leach, Will Muschamp, and his mentors Mick Dennehy and Mick Delaney, Choate has produced highly successful players. Under his watch as a position coach, five players earned All-America honrs and 16 became all-conference picks. Choate has coached in eight bowl games and the FCS Playoffs once.

Choate and his wife Janet, originally from Dillon, have a son (Jory, a redshirt freshman on the MSU football team) and daughter (Jacy).